🏸【Nylon badminton birdies for day and night play】
🏸【LED lights on the shuttlecocks can be switched on and off easily】
🏸【With these led shuttlecocks the fun begins when the sun sets】
🏸【Approximate life span of 48 hours lighting for each birdie】
🏸【Quantity of 4 pcs in a tube each with a different color LED :1pc Red ,1pc Green, 1pcs Blue and 1pc Yellow】
Product Description
LONG LIFESPAN
Approximate life span of 48 hours lighting for each birdie to keep the fun going for a good long time. 
SAFETY & CONVENIENCE
These LED lights on the shuttlecocks can be switched on and off easily.
The switch is mounted on the surface of the cork as pictured.
BIRDIES IN A TUBE
Quantity of 4 pcs in a tube each with a different color LED : 1pc Red ,1pc Green, 1pcs Blue and 1pc Yellow. 
PRODUCTS DETAILS
Product Dimensions: 9.3 x 2.8 x 2.8 inches
Shipping Weight: 3.52 ounces
Model number: GS3007
Batteries: Lithium Metal batteries included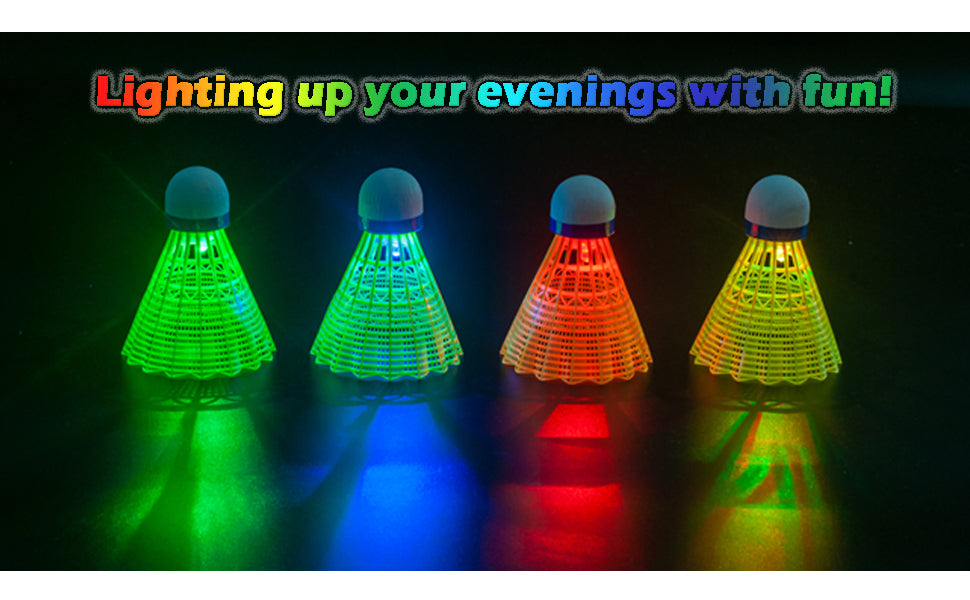 FOR YOUR FAMILY THIS SEASON
Round up the family in the yard for festive fun after dinner.