Roll over image to zoom in
Description
🏸【Nylon badminton birdies for day and night play】
🏸【LED lights on the shuttlecocks can be switched on and off easily】
🏸【With these led shuttlecocks the fun begins when the sun sets】
🏸【Approximate life span of 48 hours lighting for each birdie】
🏸【Quantity of 4 pcs in a tube each with a different color LED :1pc Red ,1pc Green, 1pcs Blue and 1pc Yellow】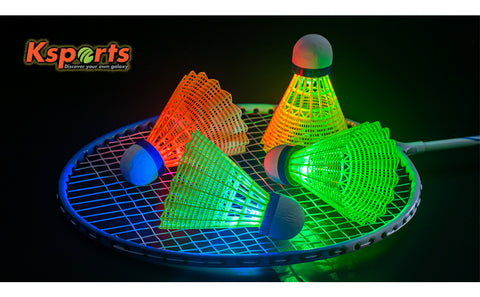 FOR YOUR FAMILY THIS SEASON
Round up the family in the yard for festive fun after dinner. 
SAFETY & CONVENIENCE
These LED lights on the shuttlecocks can be switched on and off easily.
The switch is mounted on the surface of the cork as pictured.

LONG LIFESPAN
Approximate life span of 50 hours lighting for each birdie to keep the fun going for a good long time. 
BIRDIES IN A TUBE
Quantity of 4 pcs in a tube each with a different color LED : 1pc Red ,1pc Green, 1pcs Blue and 1pc Yellow. 
Click ADD TO CART now !
PRODUCTS DETAILS
Product Dimensions: 9.3 x 2.8 x 2.8 inches
Shipping Weight: 3.52 ounces
Model number: GS3007
Batteries: Lithium Metal batteries included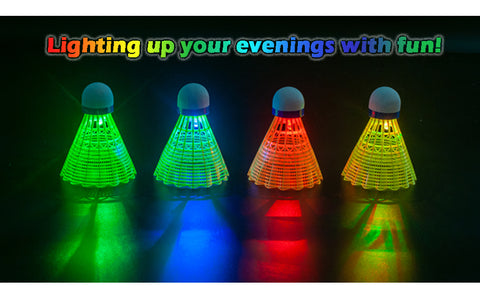 Payment & Security
Your payment information is processed securely. We do not store credit card details nor have access to your credit card information.